Quickbooks Expert Rochelle Dejong: Benefits
What are the benefits?
Outsourcing with R&D gives your company access to a higher level of expertise than you normally could afford. R&D lets your company access the right amount of each level of talent needed throughout the year to effectively give you timely transaction processing and meaningful financial reporting and analysis. The savings puts your accounting department on our staff, not yours, keeping your overhead flexible and lean. As the owner, you can now focus on your core business, not your accounting department. Outsourced accounting services can result in improved efficiency, cost savings, access to financial information not available by in-house employees and an improvement in your ability to monitor your business. You maintain control over your cash. We provide the data, but you approve all invoices for payment and sign all checks.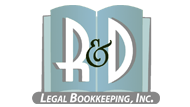 Rochelle Dejong
311 State Route 94 South, Warwick, New York 10990
(845) 986 9424
Ask Rochelle Dejong a Question
rdlegalbookkeeping.com

My professional experience consists of over 30 years working in an accounting environment with numerous accounting software packages. My goal is to assist small business with their bookkeeping and financial needs to keep them up to date with their financial reports so that they may achieve their goals.
Comments
MUST READ NEWS
VIDEOS
---